Sunday, May 5, 2013
the International World Copyright Day, since the number 23 signifies the world literature date tracing it back through the year were all famous authors died in 1616 such as Shakespeare, Cervantes, and Inca Garcilaso de la Vega. The celebration of this unique yearly recognition to the renowned and even aspiring authors in the world was marked in 1995 in Paris, which became a worldwide tribute. It allows everyone, especially the young ones, who have a passion to write and to contribute to the geniuses who have minds and hearts to share the undiscovered stories out of their imagination. Get to know these top 10 highest paid authors in the world.
10. Dean Koontz ($19 million)
Photo Source:
http://www.celebritynetworth.com/richest-celebrities/authors/dean-koontz-net-worth/
The 67 years old American author did not climb to the ladder of writing in an instantaneous manner, but the physical abuse that he has experienced from his father became a catalyst to his decision to speak his mind through pen and paper. Although he is a teacher by profession, he used his spare time to write a novel, and who would have thought that he could produce dozens of it, especially in the science fiction genre. Since 1968, his inclination to write continued until he went to another line of writing under the horror fiction, which he is popularly known. With his wife's challenge that she'll support him in 5 years, otherwise, he had to quit and forget his dream as a writer, which pushed him to fulfill it.
9. Suzanne Collins ($20 million)
Photo Source:
http://shelf-life.ew.com/2010/08/12/suzanne-collins-on-the-books-she-loves/
Her path to writing began when she pursued a double major course in the field of Telecommunications and Drama at Indiana University, which placed her to a children's television show as its writer in 1991. Some of the shows where she'd worked closely were Nickelodeon, Oswald, The Mystery Files of Shelby Woo, and a lot more. She is expert in Children's literature, Fantasy, Young-adult fiction, and Science Fiction. She has published well known books that she authored like The Hunger Games, and Gregor the Overlander, which became a New York Times best seller.
8. Danielle Steel ($23 million)
Photo Source:
http://www.therichest.org/celebnetworth/celeb/authors/danielle-steel-net-worth/
Her passion in novel writing is evident because of more than 800 copies that were sold. Some of the top favorites from her loyal and new patrons that became internationally acclaimed for the content and approach are One Day at a Time, 44 Charles Street, Matters of the Heart, Legacy, Bright Light, Southern Lights, Family Ties, and a few more. Novelist is her lifetime career, and she's been doing it since 1978 despite of the break-up marriages that she had. Her writing genre is focused alone in romance and mainstream.
7. Nora Roberts ($23 million)
Photo Source:
http://www.heraldsun.com.au/ipad/the-60-million-woman-nora-roberts/story-fn6bn9st-1225961689659
The 62-year old awardee of Quill Award for Book of the Year, Quill Award for Romance, and RITA Award for Best Novel has been a novelist since 1981, and is still working until now. She carries different pen names when she writes like J.D. Robb, Sarah Hardesty, Nora Roberts, and Jill March. She is expert in suspense, romance, and fantasy genres. She was not able to complete any related course in novel or writing since she married after she graduated from high school. She just had the opportunity when she married her husband who happens to be a bookstore owner. Their meeting started when she hired her second husband to work on her bookshelves. Since she was housebound in 1979 along with her two kids, she started drafting ideas until she was able to finish that day, 6 manuscripts. Of course, her path towards the novelist title was never easy; she received several rejections before her works were recognized. She's thankful to her family because they love reading, which she has witnessed at an early age.
6. Bill O'Reilly ($24 million)
Photo Source:
http://www.time.com/time/photoessays/10questions/0,30255,1839981,00.html
Who would have thought that this 63-year old and bubbly guy, who is much known as a Fox News Host, would have more bucks out of his historical books? According to his biography, he served as a writer in his school newspaper at Marist College in New York, where he received his degree in history and after two years, he completed his Master of Arts degree in the field of journalism at Boston University. Hence, he also served as a columnist and a reporter in several local newspapers in Boston. So, we could see broadcasting and writing are two of the most important jobs that he loves the most, but he earned much when he focused himself in writing.
5. Jeff Kinney ($25 million)
Photo Source:
http://www.positivelynaperville.com/2012/10/30/wimpy-kid-creator-jeff-kinney-will-stars-at-andersons-event-at-still-middle-school/14425
He is the youngest author millionaire on this list, and at his age, he has accomplished and exceeded the expectations of others who are ahead of him. Imagine, with his just two books, The Wimpy Kid andDog Days, with the combined sold copies, it got $18.3 million already. He also received various awards like Kid's Choice Award for Favorite Book, and Dorothy Canfield Fisher Children's Book Award. It is pretty obvious which genre he is focused on with the awards that he got. His first frustration was really becoming a cartoonist, which he has humbly exemplified when he led their campus newspaper at the University of Maryland at College Park. He is also cited as one of the Most Influential People in Time Magazine.
4. John Grisham ($26 million)
Photo Source:
http://www.csmonitor.com/Books/chapter-and-verse/2012/0607/Name-that-character-in-John-Grisham-s-new-novel
He could have achieved this grandiose state of wealthy living because of his earnings from his writing job as a writer, but he came from a humble family where his parents were not even able to finish college. He might have shifted from different degrees thrice, but he was able to finish accounting, and became a tax lawyer. He also dreamt to become a baseball player, but his career turned into writing where he focused on what he knows, such as legal thriller, baseball, and crime fiction. Two of his best sellers are Calico Joe and also The Firm, but before entering the bandwagon of writing he was also an active politician and a lawyer.
3. Janet Evanovich ($33 million)
Photo Source:
http://usatoday30.usatoday.com/life/books/news/2011-06-16-Janet-Evanovich_n.htm
No one and nothing can stop her from producing quality novels in the field of mystery, romance, and suspense. She's been writing since 1987, and at her age, she still finds the energy to squeeze out more of her creative imagination, which proves that her age does not really matter in this field of work. She began writing short novels carrying the Steffie Hall pen name, but she made a name out of the modern mysteries which are in series that became best sellers in Amazon and New York Times. Her quest in writing started when she made a decision to be a stay-home mother to take care of her kids, she tried writing, but was never able to push through it. She tried improving her craft, until someone told her to try the romance genre, which she enjoyed after reading several romance novels. The rest became a history for her, and the humorous side that she had shown in most of her novels.
2. Stephen King ($39 million)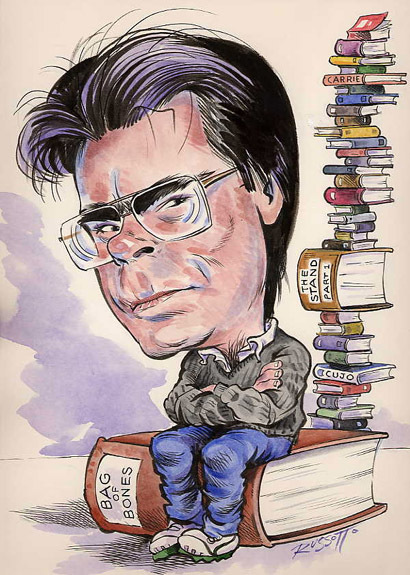 Photo Source:
http://stephanieearlygreen.com/tag/stephen-king/
His name is being echoed in four quarters of the earth because of his talent in writing, where he authored more than 50 books, and majority of which became best sellers. His passion in writing happened while studying in high school, but later started contributing at Dave's Rag. His love in horror became a channel for him to write what he has watched, and share it to his friends. He even pursued Bachelor of Arts in English and finished it in 1970 at University of Maine. He was not able to work right away, so he decided to sell some short stories that he personally wrote to sustain himself and his daughter. Although prior to the peak of his writing career, he had faced serious personal problems, but starting in 1973, his success began. Some of his notable works are The Dark Tower, Carrie, It, the Stand, and among others. He also received various awards like Fantasy Award, Bram Stoker Award,and other distinguished recognitions.
1. James Patterson ($94 million)
Photo Source:
http://www.telegraph.co.uk/culture/books/authorinterviews/7052581/James-Patterson-interview.html
Majority of his earnings came from his occupation as an author, and he's proud of that. He is expert in science fiction and thriller, and some of his notable works are Witch and Wizard Series, Maximum Ride,Daniel X series, Alex Cross Series, and others. He got several recognitions and awards as well including the Edgar Award, the Children's Choice Book Award Author of the Year, the BCA Mystery Guild's Thriller of the Year, and others. Although Stephen King described him as a terrible writer, but he has better earnings than Mr. King, but having 230 million total copies sold proved that he is way better than the prominent and respected author, Stephen King. He finished his education at Manhattan College and Vanderbilt University with the degree in English and Master of Arts in English.