Tuesday, December 3, 2013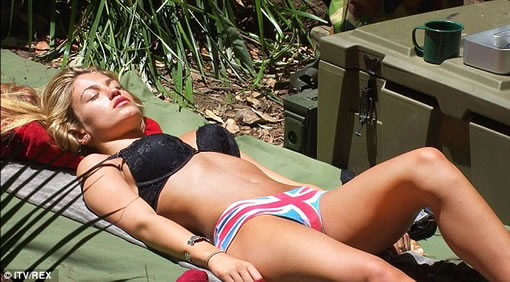 I'm A Celebrity
… Get Me Out Of Here! contestant
Amy Willerton
appears to have run out of bikinis and has begun wearing her underwear to sunbathe in.
The British model
, 21, has been spotted laying around in her underwear rather than a swimsuit as she tries to catch rays under the jungle canopy.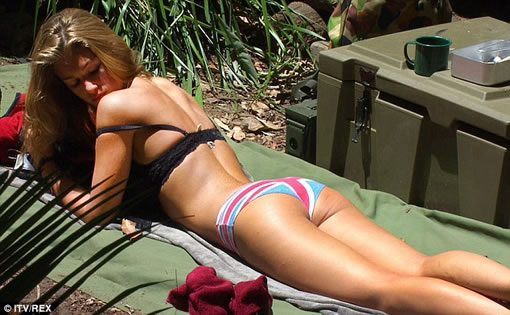 The star even removed her bra and lay topless on her bed wearing just a pair of union jack briefs. It seems the model's bikini collection has well and truly run out and she has also been seen sporting a pair of canary yellow pants and a matching bra. But whatever she's doing, it's put a smile back on her face as the model looked miserable earlier this week.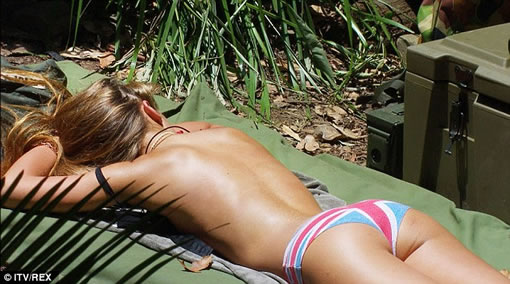 Looking less bubbly than usual, Amy didn't smile as she attempted to wash the jungle dirt out of her long, blonde hair in the camp's waterfall on Tuesday. However the smiles didn't last long as the camp were reprimanded for having contraband in the camp. Earlier that day Amy had confessed to Joey that she had chewing gum in her bag and shared the banned substance with the Essex lad.
That evening, before dinner, the camp received a message telling them there was contraband in the camp and unless it was handed in, they would only get seven of their ten meals that evening. Campers dug deep and revealed nearly all of them were carrying something dubbed illegal by ITV bosses.
But, until prompted,
Amy Willerton
kept schtum about her minty sweets. When the model finally handed them over, she didn't look happy and was quizzed by other campers as to why she hadn't shared.