Sunday, June 9, 2013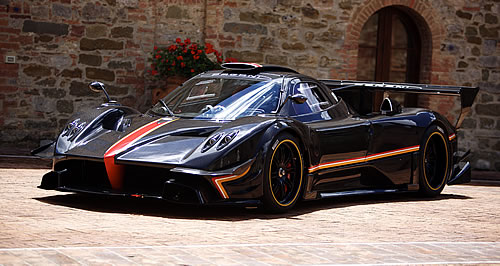 Pagani has released the next iteration of its Zonda: the Revolucion. This new machine boasts a carbon-titanium monocoque chassis, slimming the machine's curb weight to a feathery 2,358 pounds. Engineers managed to pull an astonishing 800 horsepower from the craft's 6.0-liter V12, and torque now resides at 538 pound-feet. Gear shifts come courtesy of a six-speed sequential transmission, and Pagani says the box is capable of swapping cogs in as little as 20 milliseconds. A 12-step traction control system helps keep the whole mix on the road, shiny side up.
Other clever tricks include a drag reduction system, which adjusts the rear wing between two downforce settings. The driver can choose which setting is appropriate for the conditions at any time, though an auto mode can do most of the thinking for you. Carbon ceramic brake discs pressed by Brembo calipers handle the stopping duties. If you want one, you can expect to shovel out 2.2 million euros for the title – that's around $2.9 million at current conversion rates. Hit the full press release below for more information.



















Via: Autoblog