Monday, March 25, 2013
Everyone is happy because of the fast pacing routines and activities that can be done because of the empowerment of technology. Imagine the difference of the discoveries in the 1900s against the 20th century. It's really incomparable because of the major benefits that it gives at work, school, and of course in the business. It's indeed a sign of progression. However, we are setting aside the negative impacts to those people who have been working in the traditional or mechanical way. In fact, in 2008, there have been mass employee layoffs because machines and computers are now performing their job scope. Moreover, the skills or knowledge that they have is no longer as valuable and current because of the new skills being taught in school. In other words, they are already obsolete. That's why they are called redundant because they no longer have value in a company or business, and others are doing. They are now liabilities to the company. Here are the top 10 redundant jobs today or nearing its death in the industry because of evolution of technology.
10. Loan Officers
Photo Source:
http://info.montagetalent.com/news_resources/talent-acquisition-news/bid/156160/How-can-you-convey-corporate-culture-through-a-video-interview
With online processing being established, people do not need to go to any loan officers to submit necessary documentations and even address certain inquiries since a system has been created for the convenience of customers or clients of these financial institutions. It's true that there are still small-scale loan establishments that are still utilizing the mechanical assistance of manpower, but it has reduced tremendously because of the advancement in online accessibility and gadget availability.
9. Checkout Clerks
Photo Source:
http://scaparato.tumblr.com/page/2
Although this will not happen simultaneously in most supermarkets, grocery stores, and other retail stores, but checkout counters where the clerks serve are being replaced gradually by a unified system. In fact, it's one of the proposals made by the CEO of JCPenney, in order to earn more profits, and that excessive manpower can be reduced. This planned implementation may take place in 2014.
8. Sewing Machine Operators
Photo Source:
http://www.loadtr.com/312640-terzi.htm
In 2010, there is a 25.8% decrease with the demand of sewing machine operators and it's expected to even decline at sharper rates, even keeping people to a minimum by 2020. This job is specifically designed to operate sewing machines to sew different types of fabric, synthetic materials, and leather. However, because of technological advancements, it has affected greatly some stages or processes in the clothing industry such as pattern-making, designing, pattern placing & cutting, and grading. Machines or equipments that are now being used in replacement of the human labor now do these.
7. Restaurant Order Takers
Photo Source:
http://vk.com/semkapital
It's true that there are still hotline numbers that you can contact in order for you to take your personal order, where you could be routed to a real customer service representative to take your purchases. However, the significant contribution of online accessibility and the platform that established by standard database make the order processing easier, convenient, and time saving for companies, and other establishments. In fact, mobile phones could process orders as well, making placing your order doable wherever you are.
6. Insurer
Photo Source:
http://www.dushi.ca/tor/community/bencandy.php?fid=297&id=15139
With the new system being implemented because of the efficient and quick transaction of online applications, the turn-around time of processing documents have been reduced. In fact, the standard 22 days or so have been cut to 5 days because of the unified system created through an automated worker that can be online 24/7. It is integrated through websites that can answer queries, and process everything in 4 hours or less. It maximizes the usage of time, and cut further costs being allotted to people who are assigned in this position.
5. Postal Service Mail Sorters
Photo Source:
http://swtimes.com/sections/news/postal-service-saturday-home-delivery-will-end-august.html
Postal service mail sorters may no longer be as demanding as they used to be all because of emails, online messenger services, mobile phones, SMS, MMS, and even social networking sites. Yes, not only did emails change the way people communicate these days, but these modern technologies have rendered even automated mail sorters a bit redundant themselves. So if the operations department would choose between a person that can sort about a hundred mails an hour, against a machine that can sort about 50,000 and can separate it by verification codes, zip codes, and mail types, then the human mail sorter is rendered useless.
4. Retail Store Sales Workers
Photo Source:
http://www.njfamily.com/NJ-Family/November-2012/Is-Your-Special-Needs-Teen-Ready-For-Work/
Back in the day retail store sales workers are in demand because there are many stores that depend on the looking eye of these people, they also serve as lookout for pilferers, and they also take care of monitoring store sales by receiving money, and giving change, depending on what has been purchased. While many think that these people are staples in groceries and other shops, there are certain technologies that do such tasks, such as utilizing innovations for doing transactions online with credit card payments, and even mobile phones become eWallets, making purchases cashless and easy. People can now purchase books, groceries, and other things just by swiping whatever they have, then they only present the receipts to the security guard for verification.
3. Bookkeepers
Photo Source:
http://instantxpresstax.com/gallery
While bookkeepers are often found together with the accountant to make things organized and well placed, these people can be considered as redundant employees in some cases due to their function of creating and tracking inventories, particularly knowing that which comes in and which goes out, whether it involves cash, supplies, or perishable items. Thanks to point-of-sale systems that have everything tracked, bookkeepers are not much as needed, except for instances when their digital counterparts fail due to technical issues. Other than this, POS systems can automatically indicate the total number of supplies, including the costs, along with tracing how many of such supplies are sold or released from inventory. There are even smarter POS systems that can create ledgers based on sales per terminal, per day, per hour, per supply, or even by bulk in various values.
2. Car Manufacturers
Photo Source:
http://www.picstopin.com/141/ordre-de-r%C3%A9paration/http:%7C%7Cphilippe*boursin*perso*sfr*fr%7Cbep2004%7Cmodele06*gif/
Car manufacturers these days rely in the process of automation to make sure that everything can be produced and created in a pace that cannot be compared to doing things manually. Thus when you become a manufacturer working on automobiles, your skill of fixing cars, especially in mass production factories cannot be applicable. This means that troubleshooting skills can only be applied when working in an auto repair or restoration shop. Think of the many bolts, nuts, and screws that are needed to be fit in modified sheets. If everything is going to be done by hand, it only means that the units are limited, it costs expensive, and are usually top of the line. If you are considering this field of work, then you need to be an ace in this field as there are very limited automobile companies that rely on manual work to produce a car.
1. Travel Agents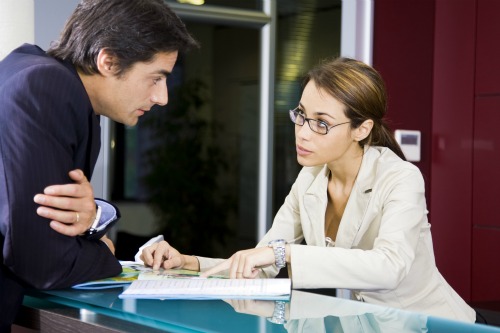 Photo Source:
http://www.fundacionlengua.com/es/nueva-seleccion-videos-practicar-espanol-web-fundacion-lengua-espanola/art/4241/
Most of the time, especially on holidays, travel agents are necessary to make sure that every traveler getting on their way are given the right tickets and riding in the correct planes. However, with modern computer and IT systems making everything easy and simple for customers, sometimes, hiring too much of these agents may waste some resources knowing that there are things that can be done without their assistance. They are considered redundant in cases of payment collection and ticket issuance. When purchasing flight tickets online, the buyer simply indicates the travel destination, their departure dates, and even their luggage size, with the remote server doing all the computing of the ticket costs. Before issuing the ticket, the customer will then input their payment info also online, and only then will they be able to receive an eTicket; thus making this whole process redundant for the agent. Also, there are certain ticketing sites that provide advice and tips for travelers, depending on the location.